Commanders Might Be Better Without Wentz
After two weeks without their first-string quarterback, the Washington Commanders have managed to keep the winning attitude alive. Carson Wentz's injury has placed him on injury reserve, and he's scheduled to return in 1-4 months. However, his return may not be the best thing for Washington at the moment. Taylor Heinicke has stepped into the starting role almost effortlessly, going unbeaten since being deemed the first string. With a 2-0 start with Heinicke at the helm of the offense, Washington seems to have a new energy going into week 9 of the season.
A New Energy
Terry McLaurin and other Commander's receivers have seemed to thrive off the spark that their new quarterback has given with his play. Since Heinicke replaced Wentz, the offense has had to adjust to a new style. This adjustment has been for the better though, as Heinicke appears to extend plays longer than his fellow quarterback Wentz. Using his legs to scramble and give his receivers more time to evade coverage, the offense has more chances to move down the field.
Even if Heinicke isn't able to throw it to one of his receivers, his ability to run when the pass rush gets through opens the door for him to gain yards on his own with his running ability. Don't get me wrong; I am not calling Heinicke a speed demon by any means. Yet, when he does make the decision to scramble for extra yards, he has displayed the ability to rush for yards and catch the defense off guard. Also, the guy can take a hit. In no way am I saying that Wentz can't do the same, but with professional sports, especially the NFL, availability is everything. What I am saying is that Heinicke isn't the best at sliding to the ground when he scrambles out of the pocket.
Was Wentz a Mistake?
Wentz hasn't been playing the best, but this has been known since his days in Philly. It's also been known that he has a history of injuries that cause him to miss severe playing time. Did Washington make the wrong choice pulling the trigger on Wentz? I wouldn't say that. If they never picked up Wentz, then Heinicke wouldn't have a level of competition to play and perform. Looking at what Wentz was able to produce on the field, he was also able to achieve two victories. But when looking at how Washington defeated teams under Wentz, it appeared like they were supposed to lose. Essentially, teams like the Jacksonville Jaguars and the Chicago Bears were missing out on easy conversions or close calls that a superior team could've easily avoided.
Heinicke Responds to the Pressure
Regardless of the low standard set by Wentz, it must've been difficult for Heinicke to earn his spot and have to take the back seat again for the vision of the franchise. Which is even further reason for him to showcase what he could do on the field. Giving the team a fresh breath of offense, they seem to be playing with more energy and courage. Taking down Aaron Rodgers is no small task, especially in the fashion it was done! They were trailing Green Bay 14-3 and ended up winning 23-21. In his first starting game, beating a legendary quarterback upon his return. Heinicke followed up this performance by traveling into Indianapolis and delivering another surging comeback to win late in the fouth quarter. The Commanders snapped a 76-game losing streak when trailing by multiple scores in the fourth quarter, ending a drought of years without a comeback victory.
McLaurin made a spectacular catch over Stephon Gilmore, ripping the ball away in midair to secure possession of the football landing on the one-yard line. That was a special moment for McLaurin, as he is from Indianapolis and truly wanted to make a statement with this game. After the catch you could just see the excitement flowing through his body with the expression on his face, pointing to the ground and shouting "this is my s**t." This gave Washington all the momentum they needed to punch it in on a scramble by Heinicke. After he rose up from that pile, he began flexing and shouting, turning red from the pure thill of this comeback. These back-to-back wins were enough to catapult Washington to .500 at a 4-4 record.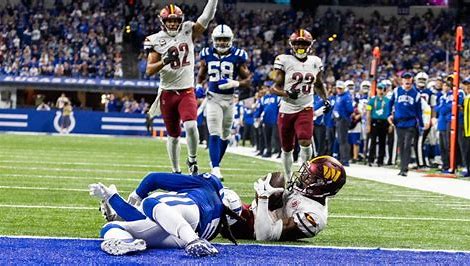 The Road Ahead
There is still work to do with a very skilled NFC East to battle through, hopefully rising in the standings. But as things currently sit there is only a two-game difference between Washington and the Giants or the Cowboys. With New York and Dallas both at 6-2, someone has to break the tie as they play each other in a couple of weeks. Meanwhile, Washington has to stay afloat with their momentum because they will need it against the Minnesota Vikings, as they sit at 6-1. With a dangerous Jeffrey Jefferson and a poised Kirk Cousins looking to run past Washington, they must continue to play up to their level of competition, not down. I say this because it's not likely that New York will be losing their next two games as they face the Houston Texans (1-5-1) and the Detroit Lions. However, Dallas has to overcome Aaron Rodgers and the Packers as Washington did and Vikings likely will. Even though the Cowboys have only lost one game this season, they could very well slip against one of these teams who will certainly provide competition.
Nevertheless, with Heinicke starting, the Commanders have opened the door of opportunity to compete this season with an elite division. If the defense can manage to consistently force turnovers and get stops like the past couple weeks, then the Commanders should be able to sustain this run. Letting Heinicke freestyle and extend plays has given this team a jolt of energy that couldn't have come at a better time. As before, the team's level of play was nowhere close to stay with other top tier teams. Now though, they stand a chance to compete against talent. The team has an aura of optimism that should cause local fans to have some faith moving forward into the season. Win or lose, the Commanders could find their way back into the game against anybody.