Chinonye Chukwu's "Till" places the spotlight on Mamie Till-Mobley, the somewhat unsung heroine of the events following the 1955 lynching of her fourteen-year-old son Emmett. Though many Americans and others across the world are familiar with the tragedy of Emmett Till's murder, less know about his mother's subsequent dedication to the pursuit and justice, freedom, and a better America for all Americans. Emmett's lynching would not have lit the revolutionary torch that it did if not for Till-Mobley's actions. Chukwu's film makes this perfectly clear.
Mamie Till-Mobley became a champion of civil rights following the murder of her son. Her decision to showcase the badly mutilated body of her son on the cover of "Jet" magazine and at his open-casket funeral shook the nation to its core and helped launch the incipient Civil Rights Movement into becoming what we know it as today. Chukwu accurately writes her character as a fierce, tireless mother and activist who refused to take no for an answer.
A Faithful Retelling
"Till" is strongest in its commitment to honesty and precision. Despite every biographical film requiring some degree of dramatization, "Till" does its best to get as close to documentary-level accuracy as a dramatization can. The effort is owed to Chukwu's collaboration with filmmaker Keith Beauchamp on both the film's writing and production, whose interest in Mamie and Emmett not only spawned the award-winning 2005 documentary "The Untold Story of Emmett Louis Till," but led the United States Department of Justice to reopen the case of Emmett's lynching. Beauchamp, a bona fide expert on the subject, was even a close friend of Till-Mobley until her death in 2003.
The script remains strikingly faithful to primary accounts of Till-Mobley's fearlessness in her strides toward justice and Emmett's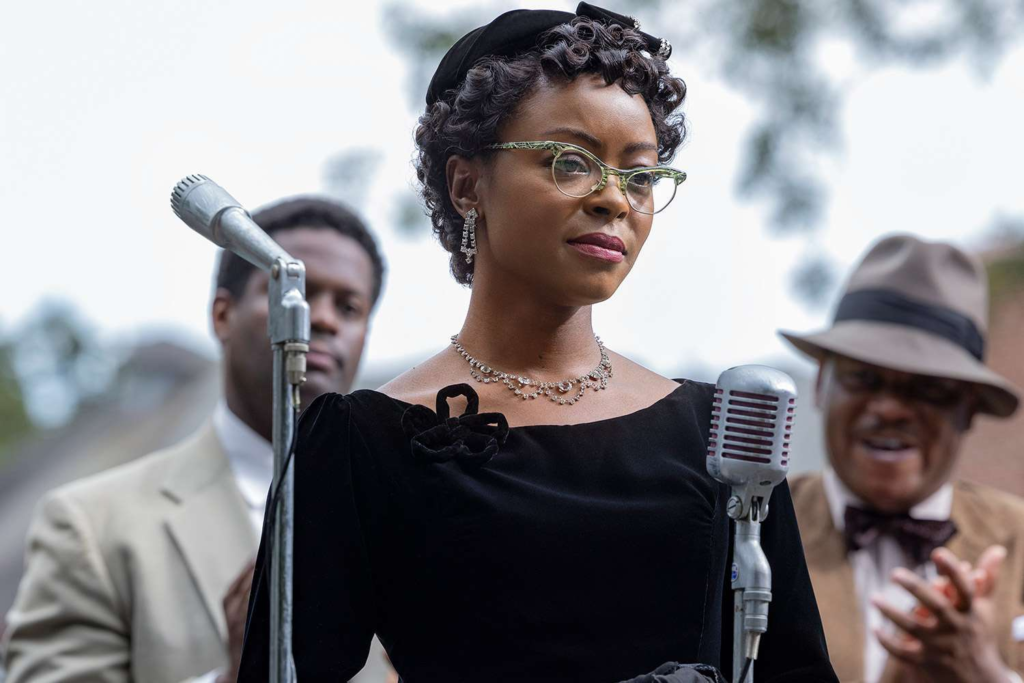 infectious personality. "Till" is driven forward by Danielle Deadwyler's sensational portrayal of Till-Mobley, which is likely to soon be in the conversations of several award committees, and also benefits from supporting performances by "All American's" Jalyn Hall as Till and Whoopi Goldberg as Till-Mobley's mother, Alma Carthan.
Nothing Wasted
The film's writing and cinematography exhibit Chukwu's decision to only show what needs to be shown. Ahead of its release, Chukwu promised in a featurette that "there will be no physical violence against Black people" in "Till," and she's certifiably a woman of her word. Till's lynching is handled accurately but without extravagant violence. The film's timeline only contains what is relevant: it depicts enough of Emmett and Mamie before the lynching to develop a sense of their personalities, and enough of the ensuing case to provide the relevant historical details. It also refuses to overstay its welcome, ending when everything responsible for Till-Mobley's impact has been shown.
One scene that's particularly representative of Chukwu's no-excess philosophy is the one depicting Till-Mobley's testimony during the murder trial. It begins by focusing on Deadwyler's profile as she answers questions about her son. The depth of field obscures the jury in the background. About a minute later, the camera slowly pans around until only Deadwyler can be seen. At no point does the attorney she's in conversation with make an appearance, and save for a brief moment at the scene's inception, no other person is ever in focus. Just as Chukwu decided that on-screen violence isn't needed to tell an infamously violent story, she decided that extra screen time for the people that helped Emmett's killers evade justice isn't needed to prove their unjustness.
Though Chukwu's economic storytelling shows great skill, it may leave some viewers wanting more. Some may feel that there wasn't enough backstory prior to the fatal events or enough of an epilogue after them, but in the case of biographical work, this is the price of brevity. There's always more to tell when real people are involved. Contained as it may have been, Chukwu's narrative deals with the subject handily, efficiently, and with few frills.