Shedrick Pelt–40-year-old, photographer, publisher, graphic designer, and activist–uses his lens to capture historical moments showcasing Black pride, community support, and activism. Whether it be capturing local protests for affordable rent, celebratory events in the District, or attending fundraising events with climate activists to capture organized disruption, Pelt is there.
Accountability and Commitment to Community
Pelt is committed to being a contributing community member, stating "My contribution to the tribe is I'm a storyteller." Originally from Alabama, he attributes his experience growing up in a military family and living in places like Germany and Kansas to his insatiable appetite for exploration. Pelt also points out that his family played a large part in his "go get it" attitude, sharing he was raised in an environment that pushed the importance of being accountable.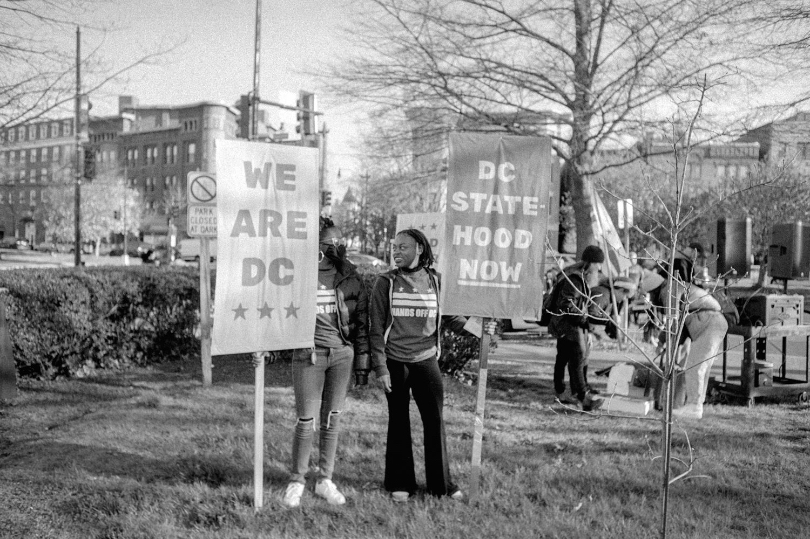 After reviewing Pelt's long body of work, his eye for storytelling, lessons of accountability, and commitment to community can all easily be found throughout. For example, in his projects like "A Year Without Hugs" where he took photos of a single red balloon in empty public spaces, Pelt tells the story of a universal community experience we all felt during the Covid-19 pandemic: the loss of human connection. Alternatively, during events like Pride 2023, Pelt captured the essence of LGBTQI+ togetherness, and of a community taking accountability for supporting all of its members.
Exploring Pelt's photo archives also revealed his keen documentation of history in the making. Pelt has captured the recent Emergency Climate rallies, the March on Washington, the Hands Off D.C. rally, the March for Life, the March for Iran, the uprising following the Roe vs Wade decision, and more.
Pelt understands that the community has something to say, and the importance of not only listening to that, but documenting it as well. He explains that he didn't always have a strong background in documenting this element of the community, and later began to have more of an interest in learning about social justice. His humble beginnings began during his time in New York.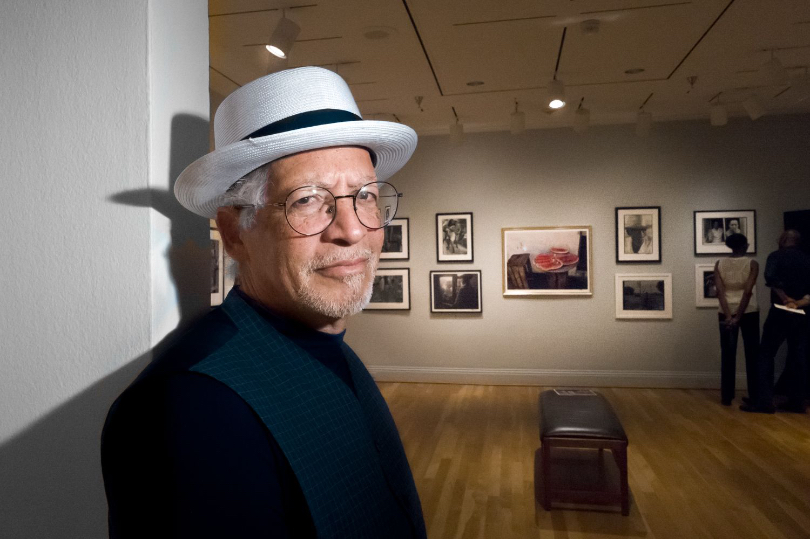 New York State of Mind
In 2009, then-27-year-old Pelt, feeling the vibrations of the recession, and yearning for change, sold a few of his high-value belongings at his home in Florida and moved to New York. Pelt shared that moving to New York gave him an intense "visual experience," thinking back to the scenic tall buildings, the subway, and his overall city exploration. He deemed this as an opportunity to think about his life, the start of his photography journey, and when he began to find himself.
Gaining new awareness and perspective, Pelt sought more experience and acquired a job as a graphic designer at Mishka NYC. Through this experience, he explained, he was taught the business of art and how to deliver, both later aiding him with his work in photography. The experience also allowed him access to the performing artists coming to the store. He exchanged contact information, attended events, and utilized the experience to begin perfecting his eye for photography.
After 10 years in New York practicing his craft and gaining more financial stability, Pelt took a quick trip to Europe to gain more clarity about his next steps. He decided to move to Washington, D.C., gradually pivoting his interests from documenting artists to documenting overall culture and community. Thus began his journey into the exploration of the unique D.C. community and culture.
Positively Adding to the Narrative
Since moving to the nation's capital, Pelt has self-published three photobooks, "2009 and Beyond," "We Keep Us Safe," and most recently the highly acclaimed "District Postcard Views." He has also worked with countless local publications such as The Washington Informer and The Bridge. Pelt has been featured in Washington Magazine, and in exhibits such as the International Center of Photography in New York, the Phillips Collection in D.C., and the D.C. History Center.
With his future looking bright, I asked about his upcoming plans. Pelt summed things up by saying, "I want to continue to understand more about Blackness and how to support community. I just want my work to read that I'm here."
To learn more about Shedrick Pelt, and to experience his work, visit his website at https://www.sdotpdotmedia.com. Also, check him out on Instagram @sdotpdotmedia.
Article featured image photographed by Shelby Swann at the Jan 6, 2021 insurrection.