It may not have been as one-sided as hoped for, but as the saying goes, "a win is a win." With Washington fans being skeptical about the start of the season, the Washington Commanders prevailed over Jacksonville. In week one's bout versus the Jaguars, the Commanders came out with a point to prove. When I say the team came out on fire, I mean it. This was a true game of halves. The defense only allowed three points on the first possession for Jacksonville. With a mixture of being stout, stubborn and having a bit of luck, they did not give up another point throughout the duration of the half. This was especially impressive considering that Jacksonville marched down to the Red zone numerous times and having their offense leave the field with no points. One of the best stops came from a sophomore on the defense when defensive back Darrick Forrest Jr made a big hit on Travis Etienne Jr., who himself was having a game to force a 3rd and long. Ultimately, it forced Jacksonville to kick a field goal that went far wide to close the half.
Initially I was unsure of how Carson Wentz would mesh with Washington and the coaching of Ron Rivera. However, as the season opener began, the best way I can put it is that everything came to fruition. I make this claim because the trio of receivers that Washington set up over the offseason looked absolutely lethal. Starting with Curtis Samuel tearing up the Jacksonville defense in the first couple drives. On Washington's second drive he almost single-handedly spearheaded a touchdown for Washington with the help of the O-line and Wentz. It is relieving to say the least to see Samuel flourishing in this offense after numerous injury plagued seasons. With Samuel setting the field ablaze, the first-round pick Jahan Dotson followed in immediate pursuit as he rose up in the back of the end zone to catch a perfectly placed pass from Wentz to put Washington up 14-3.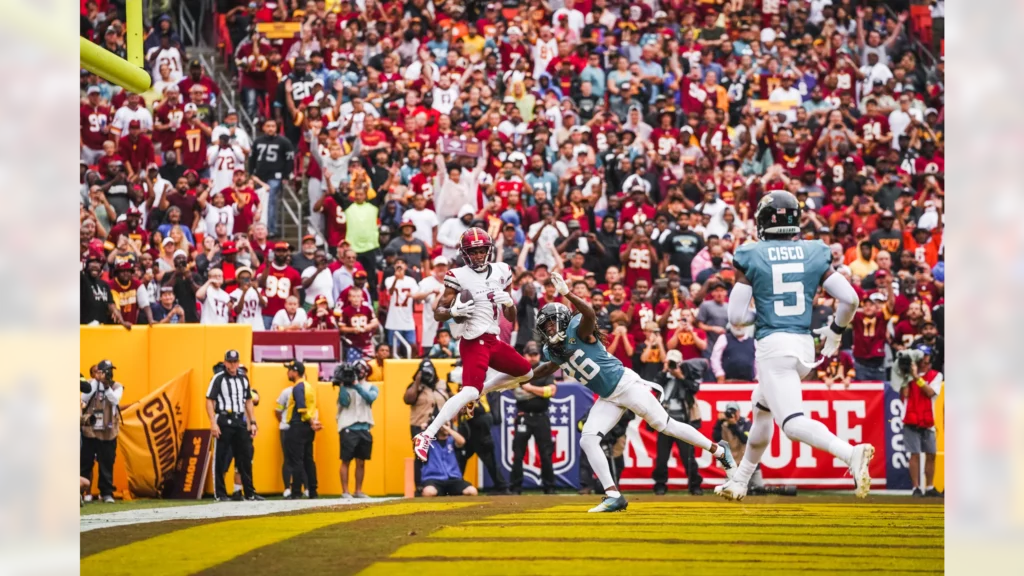 The Second Half is Where Things Got Rocky
One of Washington's main contributors to success was barely mentioned in the first half. Star player Terry McLaurin was rarely targeted, ending the game with four targets overall and two completions for 58 yards. This was unusual and had me, along with other football fans who have him on their fantasy team, very uneasy. But it shouldn't be unusual right? If you have multiple threats that can all produce on the field, it shouldn't be out of the ordinary. Coach Rivera and Wentz looked like they would agree, as they seemed content on getting the ball to the ones who showed success early: Samuel, Dotson, and Antonio Gibson. However, with Trevor Lawrence marching down the field and the Jacksonville defense looking revamped with the #1 pick from this year's draft Travon Walker, coming out the half hot was in everyone's best interest to change the plan of attack. Washington's first four drives of the second half resulted in complete failure. With two 3 & outs and two failed attempts to get the ball to the usual suspects (Dotson and Gibson), Wentz threw two interceptions allowing points on every opportunity. With Washington having to rebut 19 unanswered points (two touchdowns and two field goals) from Jacksonville, they finally decided to switch their strategy.
Wentz With an Answer
Six minutes into the fourth quarter the Commanders did something they hadn't through all three quarters; they actually threw the ball deep, which is something that the defense of Jacksonville made clear would be the only way they would be able to move the ball. Wentz spotted his big target and decided to hit his tight end Logan Thomas open for a gain of 27 yards. He then followed it up with a perfect bomb 40-yard bomb to none other than McLaurin for a clutch 4th quarter touchdown, making the score 22-20. With Washington's defense up to respond, the tandem of Daron Payne and Montez Sweat just overwhelmed Lawrence with constant pressure. Having rookie DT Phidarian Mathis go out earlier in the game to injury, the usual veterans still managed to get heat on the quarterback. Giving the ball back to Washington with two minutes left, Gibson and Samuel consistently moved the ball out the backfield. But with Jacksonville eventually putting a stop to the small yardage gains, the Commanders had to go deep again. This time Wentz hit the rookie Dotson with a 27-yard loft right on the money as he made a diving catch making the defense look silly. Scoring a touchdown along with a successful 2-pt attempt by J.D McKissic, the score was then 22-28.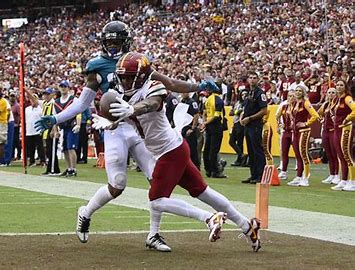 Closing the Deal
On a day that seemed to shine bright on rookies, Lawrence stepped back on the field to do his best attempt at a two minute drill. But he was met by the same pestering defensive front that had been harassing him all day. After forcing Lawrence to get rid of the ball quickly, the first two downs he decided to risk it all. Throwing a bomb on third and long consequently after getting chased out of the pocket by Sweat, Lawrence threw into triple coverage. The rookie Darrik Forrest put the nail in the coffin and came down with the game sealing interception. What a day for the young bucks, to get to come out and contribute valuable minutes instantly to start the season.
Takeaways
One of the main takeaways from this week 1 win is that Washington has the ability to score. When I say this, I mean they can do it and rather quickly. With the combined receiver core of Dotson, McLaurin and Samuel, they all seem like legit threats. I am even in favor of Cam Sims, who is Wentz's tallest receiver at six foot five inches. I believe he can be a serious weapon for Washington as the fourth option. I also love how they mix in Gibson as a receiving back, making him a dual threat out of the backfield. Doing this with Curtis Samuel gives serious problems to the defense not knowing what to expect. Now with Wentz having all of these weapons it's important to not forget any of them. I would be referring to the four targets to McLaurin. Maybe if he would've gotten him more involved, those two picks would have gained yards or something positive. On the defensive side of things, although rookie Jamin Davis was relatively silent this game, he still provided assistance with pressure on the quarterback and forced some rushed plays. I will be looking for him to be a factor in later games. I'm a big fan of how Forrest played in the secondary. When Kam Curl comes back, I hope Rivera keeps Forrest in as the secondary back or third. I speculate that these two together could cause problems for receivers with the loss of star safety Landon Collins. Just to have Forrest anywhere in the secondary would be smart, as he seems like a sure-tackler. Overall it feels good to have a Washington win to start the season as all NFC East teams came away with a win this past Sunday.